2 rules:
1. The temperature should be hot and you should be in the right environment since your location plays into that as well. So in areas like Bermuda, wearing shorts actually with a blazer jacket is pretty common.
2. When you're not conducting business or attending a formal ceremony/event. There are some guys in the fashion industry that I guess can get away with this but if you are conducting business or you're going to be at a formal event, you need to wear trousers.
How Long Should Shorts Be:
The one in the far left id too short in my opinion but some guys are comfortable with that. I would recommend not going beyond two to three inches above the knee. Maybe over in Eastern Europe, you can get away with a little bit shorter shorts but I would love to hear from you guys in the comments on that.
Athletic shorts, they can always be shorter because they serve a function. They allow you to move freely.
Fit
Better close than loose. The thing with shorts is that they only add bulk to the top part of the hips and the top thighs. And you don't want to get the chicken leg look, and that will happen if your shorts are too baggy or they billow out on the sides, so try to avoid pleats on shorts unless you have a large hip area.
Color
It affects the mood and the formality, so the short at the top left hand corner, those are the most common. Those are going to be the easiest to match. Once we start bringing in reds, blues, greens suddenly add to the informality. It becomes more fun and you're going to stand out a bit more. Sticking with a solid and a traditional style pretty much any man can be able to pull this off.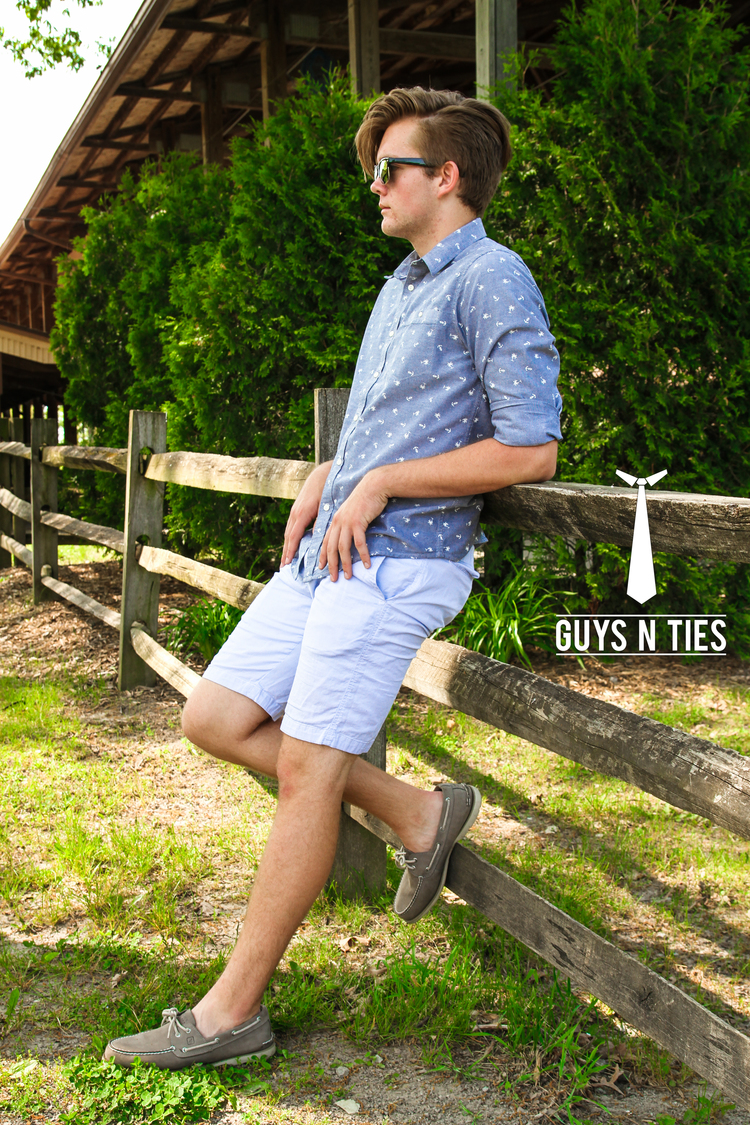 Pockets, Patterns, Styles
Cargo shorts or safari shorts with side, front, and back pockets are great for hiking or working outside anywhere that's hot but not particularly overgrown (or otherwise hazardous to bare legs). Outside of that, they don't have much of a role in your wardrobe. Let me be clear here: baggy, multi-pocketed shorts don't look great in social settings. These are ultra-casual and should not be worn to college social events.
Solid colors such as tan, khaki, white, navy, olive, and off-white are the most traditional styles for men's shorts. Plaids, especially plaids with a white base, are a preppy look staple, but should be paired with at least a polo shirt to avoid looking like a frat boy (and no collar pop, please). Madras pushes the prep look even further, and should be worn with caution.
Louder-patterned shorts, the kind that look like Hawaiian shirts for your lower half, should be saved for beach vacations and Jimmy Buffet concerts. (Interestingly, these are often referred to as "Bermuda shorts," presumably because of the tropical association but true Bermuda shorts are civilian versions of traditional military uniforms from the Pacific islands and are almost always khaki or white cotton).
What To Avoid
Shorts that are a bit too loud and short. They're really drawing attention right to your crotch area and that's really not where a man wants all of the eyes in the audience to be focused on.
Shorts that look like swim shorts. I wouldn't recommend it even if you were in the military.
What To Wear With Shorts
A lot of the times, guys are just wearing sandals but sandals should only be worn in very casual situations such as the beach. Otherwise, look to something like driving moccasins, boat shoes, casual penny loafers. Also, leave the socks or wear hidden socks underneath. You don't really want socks showing when wearing canvass sneakers or any type of slip-on shoe.
Shirts To Wear with Shorts
One of the easiest ones to pull off is the polo shirt. There are a lot of different brands, brands – a very easy match. You don't have to, but if you do tuck it in, it will will give you a smarter look.
You can also wear colored shirts that button up. For long sleeves you're wondering, "Okay, how would I wear a long sleeve shirt with shorts?" Well, you would just roll it up and it gives a much more refined look even when untucked.
Finally, top it off with a great pair of classic sunglasses. I use a pair of wayfarer from Ray-Ban, but you can go with aviators look.